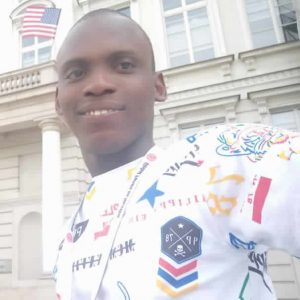 My name is Adebisi Yusuff Adebayo. I am currently a final year pharmacy student in the University of Ibadan, Nigeria.
Attending the Global Health Pharmacy Course in 2017 was a turning point in my life and it is indeed a course that contribute immensely to all I have achieved today.
I attended the course with the curious mind to learn more about global health but it turned out to be much more than learning about global health.
Personally for me the course facilitator, Prof Don Eliseo Lucero-Prisno III, challenged, inspired, supported and motivated me on how I can contribute immensely to the healthcare system and developmental issues in Africa and beyond.
Prior the course, I felt it was only after graduation from school, I can start winning grants, solving global health issues, attending conferences, speaking in international conferences and many more.
Interestingly, the course did much more, I was inspired beyond my dreams to start doing amazing things.
Global health pharmacy course is a course I will never forget and a course I describe as "one in a million". The course will not just take you through theoretically, it will give you practical ways on how to contribute to your personal growth and development.
Between February 2017 and June 2019, here are some of my achievements:
I co-founded an organization called Pharmacostory Health Awareness Initiative, few days after the course in 2017 to create awareness on health issues. The NGO has risen to be point of contact for health talks on campuses.
A delegate to 2017 World Healthcare Students Symposium, Kigali Rwanda supported by Global Health Focus Africa with 600USD based on the volunteer role and work I have done for the organization. This, which was my first trip abroad.
Within this timeframe, I also became the first Student Ambassador of Royal Society of Tropical Medicine and Hygiene, UK in Nigeria. In addition to this, I have taken up many leadership roles in many students and professionals organizations.
I successfully organized Future Generation Research Course in my University where young leaders were trained on how to do research and influence policy and practice.
I won travel grants to attend the 22nd International AIDS Conference in Amsterdam, Netherlands in 2018.
I won travel grants to attend the First International Lassa Fever Conference in Abuja, Nigeria in January 2019.
My team emerged one of the eleven winning team of Innovate4AMR, a competition aimed at seeking students' ideas on how to curb antimicrobial resistance and improve antimicrobial stewardship in limited resource settings. My team won a fully-funded trip worth 5000USD to Geneva, Switzerland to attend a capacity building workshop. Innovate4AMR is organized by ReAct, IFMSA, The IDEA (Innovation + Design Enabling Access) Initiative at the Johns Hopkins University, Bloomberg School of Public Health, South Centre and World Health Organization. Based on this, my team also received award of excellence from PharmaLead.
My research works have been selected for presentation in many international and national conferences. I have more than 12 selected abstracts in conferences.
I have numerous research publications, book chapters and blog posts published to my credit.
Due to my interest in drug policy reform, I have been invited to a school-based drug policy consultation in Abuja on a fully funded basis.
My project with reference from Global Health Focus Team won 10,000USD to carry out a project to bridge awareness and knowledge gaps among students, healthcare professionals and smokers on tobacco harm reduction in Nigeria.
I attended the 2019 Global Forum on Nicotine in Warsaw, Poland with a full travel scholarships where I delivered both oral and poster presentations.
Over the years, I mentor students and professionals on research and other areas of self-development.
In 2019, I was nominated for pharmanews pharmacy student of the year's award.
Global Health Course is what I will recommend for all young leaders, students and professionals who want to learn more about global health and have the full gists on how to develop themselves and make global impacts.