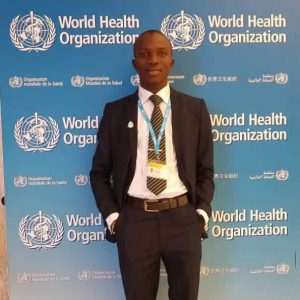 (1.) Who is Nurudeen Abubakar Adam?
Nurudeen Abubakar Adam is a young Nurse, global health advocate and a young researcher who developed interest in the field of global health.
He graduated from Ahmadu Bello University Zaria where he obtained his first degree (BNSc) at the department of Nursing sciences, He has attended many professional courses in global health and has also published some of his research papers in both local and international journals of healthcare and medicine.
Nurudeen Abubakar Adam has an expertise in leadership, advocacy and Unionism as he held many leadership positions both locally and globally, he's passionate and dedicated in providing humanitarian services and other volunteering work related to healthcare services.
He is dedicated to his work by providing training and impacting skills and knowledge to healthcare professionals and students aimed at providing an evidence based practice for better healthcare delivery in Nigeria especially in the field of emergency, first-aid and disaster response.
He's the founder and the chief executive officer for Life Saving training initiative Nigeria and also a young leader for Nursing now global campaign and advocacy, Geneva, Switzerland.
(2.) Which course I attended?
I attended the global health pharmacy course held in ahmadu Bello University Zaria in February 2017 in Nigeria.
(3.) Things I've learned during the course?
I have learned theories and concepts in global health which includes current trends, issues, challenges and debates in global health as it relates to medicine and drugs which gave me a critical understanding of the determinants that shape the current global health problems and the roles of pharmacist and other health care professional in providing sustainable solution to the current and upcoming global health challenges.
I also learned many ideas and leadership skills and critical thinking that are crucial in global health and how to explore strategies that could be used to identify and solve crucial issues as it relates to my community and my country at large.
This course also me the opportunity to acquire the knowledge for personal growth and development.
(4.) What I've done/achieved since then ?
I have been learning and gaining more knowledge in global health because of the interest i acquire after attending the course. And also Don Eliseo prisno Lucero III who is the executive director for global health focus has been providing mentorship to me and carrier guidance which motivates me to engage in global health activities and research.
I wrote two research papers with him including the paper on global health Nursing which I hope will soon be published in an international journal.
This man has contributed to my professional development and personal growth and he is always there for assistance because he always wants to see his students growing and going higher professionally and academically. I have founded my NGO named; Life saving training initiative (L.S.T.I) in my country which I am working to address one of the health problem in my country since then.
I also gained the opportunity to attend the 72nd world Health assembly 2019 at Geneva Switzerland as a young Nurse leader and as a delegate for the international council of nurses,30 of us were were chosen across the globe to go to Switzerland for this mission.
(5.) How the course have impacted my career trajectory?
This course has impacted in my career by providing me with the expertise and global network which I utilized to improve and developed my career.
This course gave me the opportunity to engage with young writters and researchers that are disseminating evidence based knowledge for good practice.
It also motivates me to enroll in many professional certificate in global health/ public health and also explored career in global health.
I have also joined many international organization and global health initiative after attending this course and since then i continue to grow in my career as more opportunities are still coming my way.