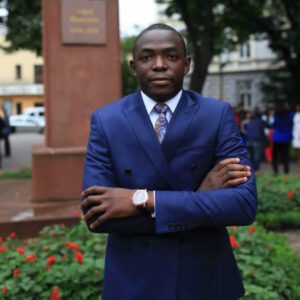 Dr Ayomide Sina-Odunsi (MD, MPH) is a medical doctor and public health expert with a special interest in Emergency Response and Crisis Management.
He is the Co-founder of AB Global Health Initiative and over the years has acquired ongoing professional experience in clinical medicine, public health, project and program management, Health systems strengthening and Innovation from working in his home country Nigeria and a range of international agencies after graduating from the Ivano-Frankivsk National Medical University in Ukraine.
Currently, he works with the Ariel Foundation International, Switzerland as the Deputy Director and the youngest on the board of directors. He also serves as the organization's Permanent Representative to the United Nations, European Union and the African Union.
He had his postgraduate studies at the University of Aberdeen, United Kingdom where he received a Masters of Public Health, and he also completed a Certificate-Mini-MBA from the London School of Business and Finance.
In 2018, He joined the World Health Organization at the Rwanda Country Office where he worked both with the HIV, Hepatitis and STDs Department and the Health Systems Department. During this time, he participated in various health programs in association with the Rwandan Ministry of Health and with partner organizations like the Rwanda Biomedical Centre, UNICEF, UNAIDS, CDC.
He also Worked on the WHO country office's technical operations and liaisons with Health Sector partners involved in Health policy and Health care system monitoring.
He has participated in many high-level conferences and summits and is passionate about influencing policy in service of communities worldwide.
He is a keen volunteer, a research enthusiast, loves to travel and has participated in various medical volunteer missions in different countries around the world. He is also passionate about creating a community of young and vibrant global health leaders.