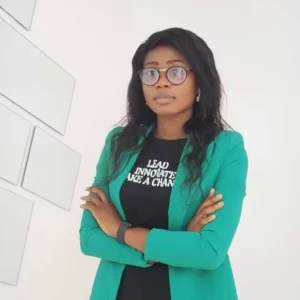 Esther Ajisafe-Ilesanmi is a vibrant young nurse, her interest lies at the intersection of global health research, health system strengthening and health policy. She serves as the director of Global health Nursing, Health Promotion, and community engagement.
Currently, she works with the United Nations Agency for Migration, IOM, in Nigeria as a Migration Health Nurse. She actively contributed to HIV epidemic control in Nigeria through her work as a Nurse Adherence Counselor at AIDS Prevention Initiative in Nigeria (APIN Public Health Initiative). Also, Esther has worked with the World Health Organization and The Nigeria Centre for Disease Control (NCDC) Oyo State office on Poliomyelitis outbreak response and COVID-19 containment and surveillance respectively.
Esther was one of the 35 young global health leaders across the world selected to participate in the Gates Notes Deep Dive cohort on Pandemic Prevention, a Gates Foundation Initiative. Here, she engaged in highly intellectual discussion with Bill Gates and recognized infectious diseases experts on preventing the next pandemic.
She has also worked at the Oyo State Agency for the control of AIDS where her work centers on health promotion, prevention, and surveillance. In addition, she was on the Blavatnik School of Government, University of Oxford, COVID-19 government response tracker team where she was contributing to Containment, Economic response, vaccine policy and public health policies.
In 2020, she was awarded a fully funded scholarship to study an advanced course at 17th Annual Johns Hopkins Fall Institute in Health policy and management Barcelona Spain. In 2018, she was the only health delegate from Nigeria to the MISK Global Forum (skills for our tomorrow) at Riyadh, Saudi Arabia.
Esther is a ONE Champion and a Global Activist at ONE Campaign, an International Organization working towards eradicating preventable disease and extreme poverty in Africa.
Esther's mission is to contribute to building resilient health system and epidemiological surveillance response in Africa through research, innovations and policy influencing.