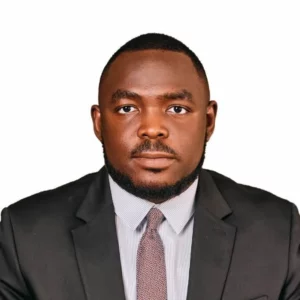 Dr. Bodinga Boyiga Nuga (MD MSc MSc) is a Global Health Youth leader and a humanitarian specialist. He is the co-founder of AB Global Health Initiative and over the years he has developed progressive experience in global health and public health especially in the field of Global health emergency response including in Fragile and conflict affected settings.
He is currently working as the public health officer responsible for organizing and coordinating public health interventions in Nigeria for IOM. Such interventions may include surveillance for infectious diseases, outbreak preparedness and response, health education and promotion, public health services for host communities, liaison with public health institutions and other activities.
He served as the Programme manager for the United Nations systems in Nigeria during the COVID19 pandemic providing technical support and accountable for overall management of the COVID-19 Isolation and Treatment Facility, including the timely execution of the conversion project.
He worked for the United Nations Agency for Migration (IOM), as a Health Project Coordinator in Nairobi, Kenya. He previously provided technical health support to over 23 Countries in the East, South and Horn of Africa particularly, Burundi, Djibouti, Mozambique, Somalia, and South Sudan.
He won the Elys Robert Scholarship to do a Postgraduate certificate in Global Health with the University of Manchester. Dr. Bodinga has done certificate course at the Rotterdam School of Management, Erasmus University in Health policy and completed a Certificate-Mini-MBA from the London School of Business and Finance.
Recently, he got a Scholarship to do a Masters of Public Health at the prestigious London School of Hygiene and Tropical Medicine in London, England and completed a Masters of International Humanitarian Affairs with University of York as a commonwealth scholar.
In 2018, he was selected as one out of the only three Africans to complete the Certificate course in Health Policy and Management at the Johns Hopkins Bloomberg School of Public Health, held at Universitat Pompeu Fabra in Barcelona in Spain.
In 2014, his abstract "The Qualities of a Successful Medical Volunteer" was selected to the Book of Abstract and he was the youngest selected presenter at the First International Conference on Humanitarian Medical Missions held in Singapore. He has volunteered with the World Health Organization in Taraba State and undertaken an internship with the Ministry of Health, Primary health care and Development Agency, Kwara State, Nigeria.
His interest is engaging, motivating, and helping young people discover how they can contribute to making the world and take the responsibility to grow.